Click HERE To Download Your e-Book
By way of saying 'thank you' I've assembled a collection of free resources which I either use in my own business already or which I use in my training, because they represent such excellent value for anybody getting started with online marketing.
I'm sure you'll find them all extremely useful … I've added a short note to each one to explain how and why I use each one.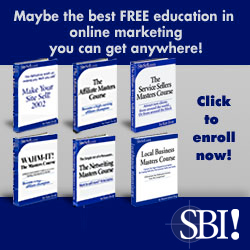 I used Site Build It! when I first started working seriously online in 2008, and I learned virtually all I know about SEO from their excellent free learning resources. Whether you use their service or not, I'd certainly recommend that you consume their excellent free learning resources, they were an important part of my online education. If you're really challenged by the teccie side of the business,give SBI! a closer look, it's my top recommendation for anybody who really can't get to grips with HTML and FTP!
LeadPages is the 'new kid on the block' when it comes to creating fast, tech-free landing pages … for sales, optins, webinars … you name it, they have you covered with high converting designs. No technical skills required, I mainly use these for webinar optin pages, but check out their designs, there's bound to be something in there that you'll want to use!
InInBox is an auto responder service which allows you to import all of your contacts without having to pay an automatic monthly fee based just on the number ie you only pay for the emails that you send. The deliverability is excellent and their support is fast and personal. I'd recommend this service if you're new to email marketing – the training and support materials are superb – or if you have a very large list which is expensive to host elsewhere, and you want a true 'pay as you go' service which only charges you for the number of emails that you send. They're very strict about their reputation though, so don't even think about it if you're going to send 'scammy' or overtly commercial mailings.

I've used a couple of different products in the past for backing up my PC files in the cloud, and I wasn't happy with any until I tried Dropbox, as they slowed down my computer. Dropbox is amazing, I'm not sure how they manage to upload all my stuff – there's a some big files in there – without messing up my running speeds, but they do. I backup everything in the cloud now, use it to transfer files betwen contractors and another thing I really like, is the way any images that I take on my mobile phone immediately get added to my Dropbox account and are waiting on my PC when I get home. More Dropbox info here
I like to recommend a free web hosting service when I deliver training because it helps remove all barriers to entry – nobody can then say 'I can't afford to do this!' I love 000Webhost  because it's 'proper' hosting, it really is free, it gives you lots of free scripts and there are no adverts whatsoever on your live site. If you went on to graduate to paid hosting, you could make a very smooth transition within 000Webhost, so if getting your business at low or no cost is a priority for you, this is an excellent hosting choice.
Register Here To Get Free Updates To This e-Book And Bonus Information And Tips …
[red_tick_list width="100%"]
Whenever the e-book is updated, you'll get the update for free
Whenever we release new and related products, you'll know first and always get the best price
We'll send you useful and practical tips and info related to small businesses
[/red_tick_list]